When medical personnel rushed onto the field to save the life of Damar Hamlin after the Buffalo Bills' defensive back collapsed during a game last month in Cincinnati, many who witnessed the horrific scene did what they could to help. They prayed.
Players and coaches from both teams knelt, clasped hands and tearfully asked God to heal their fallen brother.
Fans inside the stadium and millions of viewers watching from home did the same, sharing and posting their prayers on social media. In a time of fear and despair, prayer has taken center stage in the NFL.
During the following days, #PrayForDamar was a trend. Hamlin's family and friends asked for more prayers while he was hospitalized and after his release. Faith was back at the helm of the NFL for the first time since praying on the field became known as Tebowing.
DAMAR HAMLIN'S 'MIRACULOUS RECOVERY' BRINGS PRAYER BACK TO NFL
«They were shocked because they were seeing themselves,» Philadelphia Eagles chaplain Ted Winsley told The Associated Press. «They were smacked in the face with the reality of what this is. Damar was in that situation, but it could be me. They felt something for him, but he reminded them that this is life or death… accept the fact that there is someone bigger than me that I have to trust.
Kansas City Chiefs owner Clark Hunt, who has established a Christ-centered culture in the organization, was glad to see an emphasis on prayer during a difficult time.
«We are very happy to see Damar doing well and it was very heartwarming to see such a huge amount of support for him and people turning to God at what was a very scary time,» Hunt told the AP. «One of the things I've enjoyed being associated with the NFL is every locker room I've been in, God is always there. The players pray before the game, they pray after the game. So that wasn't unusual at that time. It didn't make sense, but I think you saw more fans, more media recognizing the importance of prayer in a situation like that.»
Hamlin believes there was a greater purpose for his pain.
«What happened to me … is a direct example of God using me as a vessel to share my passion and my love directly from my heart with the entire world,» Hamlin said in a video.
DAMAR HAMLIN 'WILL BE PLAYING PRO FOOTBALL AGAIN', SAYS NFLPA MEDICAL DIRECTOR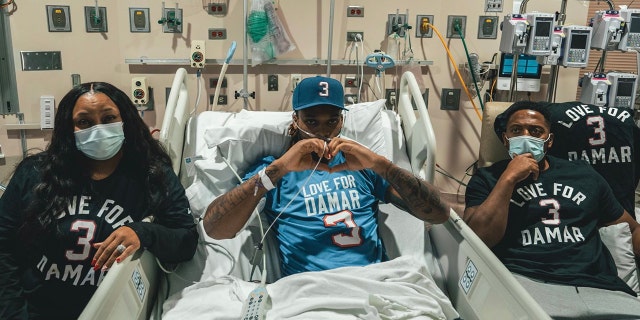 The public display of faith is nothing new in football or sports. It started long before Tim Tebow and is a part of every game.
The late Herb Lusk is considered the first NFL player to pray on the field. Lusk was a seldom-used running back for the Eagles when he rushed 70 yards for a touchdown against the New York Giants on October 9, 1977.
Lusk had already scored on a 1-yard run in that game. After his second score, he knelt in the end zone and prayed.
«I said, 'Thank you, Jesus,'» Lusk recalled years later. «And then I said to myself, 'About time.'»
Lusk never scored another touchdown and stopped playing two years later to pursue the ministry. Pastor Lusk led Greater Exodus Baptist Church in Philadelphia for 40 years until he died last September at age 69. Lusk also served as a chaplain to the Eagles coaches for approximately 17 years. Winsley, who has been the players' chaplain for more than 20 years, now fills both roles.
Hamlin's recovery inspired a spiritual awakening among his teammates. In Buffalo's first game after the incident, Nyheim Hines returned two kickoffs for touchdowns. He had a profound effect on Bills star quarterback Josh Allen.
DAMAR HAMLIN STARTS A NEW CPR CHALLENGE, RECRUITS THREE 'GOATS' TO START IT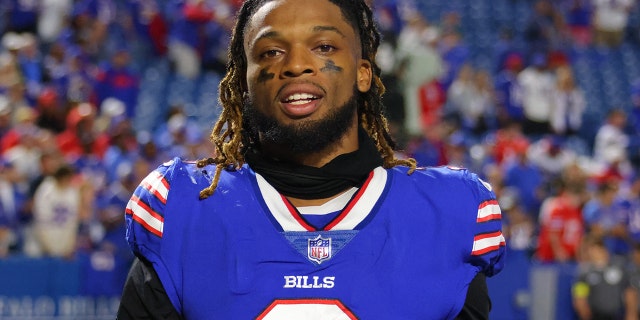 «I was talking to my teammates saying, 'God is real,'» Allen said of his reaction when Hines scored.
The players understand that God has no ultimate interest, but they found comfort in feeling his presence at that moment.
Many players struggle with success and failure. It's hard for some to deal with temptations off the field. When it's over, the transition to life after football isn't easy. Team chaplains try to help players better handle whatever comes their way, both positive and negative.
«My main message is to help athletes realize that their life is more than their sport,» Denver Broncos chaplain Reza Zadeh told the AP. «Sport is what they do. It's not who they are. A soccer player is simply their calling, but it's not their identity.»
Hall of Fame defensive lineman Reggie White, a former Eagles, Packers and Panthers player known as the «Minister of Defense,» is credited with starting the postgame prayer circle at midfield in the decade from 1980. Now, it's common to see players come together, hold hands and pray immediately after spending three hours punching and knocking each other down.
«Regardless of winning or losing, good or bad, it would be to honor God, that he would get the glory and that it's about him, not me,» Tebow told the AP.
CHIEFS' PATRICK MAHOMES FOCUSES ON FAITH AHEAD OF SUPER BOWL LVII: 'IT HAS A ROLE IN EVERYTHING I DO'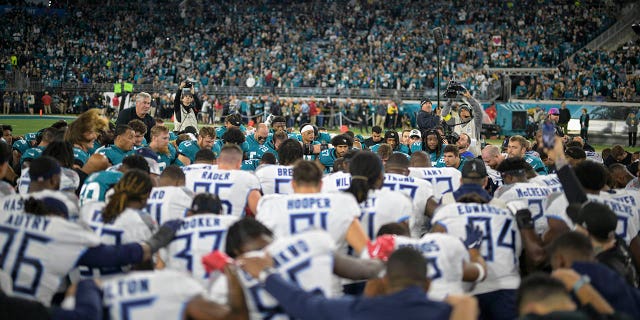 Jaguars kicker Riley Patterson made sure to do just that last month after kicking the game-winning field goal to cap Jacksonville's 31-30 win over the Chargers in an AFC wild card game.
Patterson held up his cross necklace for the cameras as his teammates hoisted it onto their shoulders.
«I was making sure that I didn't, but he gets the glory for any action he gets here,» Patterson said on the AP Pro Football Podcast. «Nothing I have done or my family will do is anything other than a gift from God… I have prayed many times that if I ever found myself in that situation, I would praise God with my actions and my words.»
Winsley was part of a unique team that had a strong culture of faith in 2017. The Eagles won the first Super Bowl in franchise history that season. The foundation for the team's success was built by men of faith like Super Bowl MVP Nick Foles, Carson Wentz, Zach Ertz, Trey Burton, Jordan Hicks and others.
Winsley and Burton baptized the players in a cold tub at the team's practice facility in 2016. Through weekly Bible studies together, a tight-knit group of men came together in faith and overcame many adversities on their way to a championship. .
These Eagles (16-3) are one win away from another Super Bowl title. They will face the Kansas City Chiefs (16-3) on Sunday.
Winsley has watched them grow and develop in their faith journey all year long. Eagles coach Nick Sirianni is a constant presence at the weekly coaching sessions.
"We're just brothers trying to be better men and we're creating a culture that I think will stick around," Winsley said.
CLICK HERE TO GET THE FOX NEWS APP
Eagles quarterback Jalen Hurts, AP NFL MVP finalist, quoted his favorite Bible verse when answering a question about criticism after leading the team to a 31-7 NFC championship win over San Francisco. .
«It was a big surprise to a lot of people,» Hurts said of the Eagles selecting him in the 2020 draft. «My favorite verse, I went through a lot in college and it stuck with me, John 13:7: 'You can't I know now but later you will understand.' I hope people understand.»