It didn't take long for Christopher Bell to realize that the gravel surface at Bristol Motor Speedway was ripe for experienced drivers on gravel.
And it was the perfect layout for Bell to win his fifth NASCAR Cup Series race there on Sunday night.
«It was a very difficult surface to drive and it should have rewarded the guys who knew what to expect and how to get the car around the race track, which I think it did,» Bell said.
Bell held on through a restart with eight laps to go holding off another who grew up running on dirt in Tyler Reddick.
CLICK HERE FOR MORE SPORTS COVERAGE ON FOXNEWS.COM
Bell was a wunderkind of dirt racing sensation growing up: He won three Chili Bowl Nationals driving midget cars on dirt, and that experience helped the Joe Gibbs Racing driver to his fifth NASCAR Cup Series victory.
The first two years of Bristol dirt racing, NASCAR champions Joey Logano and Kyle Busch won despite having less dirt experience than many of their peers.
That changed this year as organizers gave runners a more grounded feel than ever before, Bell said.
«This place is a lot of fun, whether it's dirt or concrete,» Bell said.
Reddick was second for the second straight season, followed by Austin Dillon, Ricky Stenhouse Jr. and Chase Briscoe.
Bell's final challenge came after defending race winner Kyle Busch spun with 15 laps remaining. Bell took off on the restart and extended his lead over Reddick.
Reddick, who won the second stage, was approaching the final lap when the sixteenth and final caution came out, instantly ending the race and sending Bell's team into hysteria.
«Man, I just can't get over how long those laps feel,» Bell said.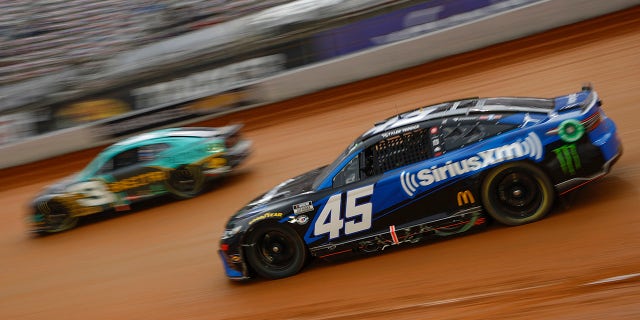 Reddick also enjoyed the intensity down the stretch. «I thought he had a little more,» he said. «He was on the edge, but he wasn't quite there in the last few laps.»
Justin Haley was sixth, Bell's JGR teammate Martin Truex Jr. seventh, Todd Gilliland eighth, Kevin Harvick with Ty Gibbs in tenth, giving Gibbs three top-10 cars.
SPRINT CAR DRIVER JUSTIN OWEN, 26, DIES FROM INJURIES SUFFERED IN AN ON-TRACK ACCIDENT
Points leader Ross Chastain, who took the lead after Hendrick Motorsports driver Alex Bowman's car received a 60-point violation penalty at Richmond, finished a lap down in 28th place.
Kyle Larson, as Bell, a dirt-racing supernova who started on pole, won the first stage and took only fuel, with no new tires, to make it into the final segment. But Larson spun on his own with 96 laps to go, had to pit and restarted at the back of the field.
Larson's race ended for good about 20 laps later after colliding with Ryan Preece several times between turn three and turn one. Larson, the winner last week at Richmond, pulled into the garage.
Preece was angered by the earlier contact with Larson and waved to him soon after to make it clear as their cars crossed paths.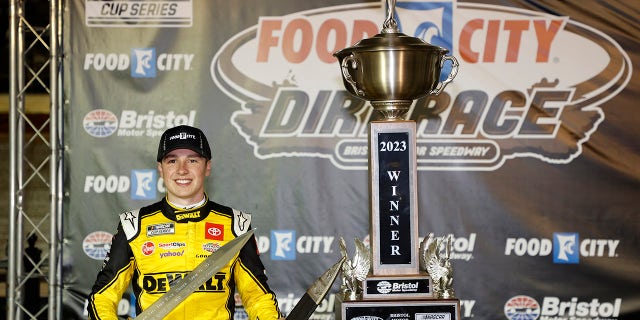 «I guess he was paying me back for what I did earlier,» said Larson, who was 35th overall. «He drove me right over the fence.»
Last year's surprise winner Busch, swept to the checkered flag after leaders Reddick and Briscoe fell out of contention, missed his chance for a second straight win with his late-race spin. Busch finished 32nd.
THE UP AND DOWN LOGANO WEEKEND
It wasn't the outing Joey Logano, two-time NASCAR champion, wanted in the dirt of Bristol.
Logano, who won the truck race at the track Saturday night, struggled to find his way and was behind the wall with the top less than halfway up.
«It was quite an eventful face for the short number of laps we were able to run,» Logano said. «It looked like all the wreck in front of me, I got up in the middle.»
Logano thought he had a competitive car, but he broke the steering with a hard hit and then «hit a fence after that.»
Logano had the top up behind the wall on lap 104. He posted 37th, last place. It's the second time this season has happened to the defending champion, the other being in Las Vegas last month. He only had two in his NASCAR career before 2023.
CLICK HERE TO GET THE FOX NEWS APP
UNTIL NEXT TIME
NASCAR stays on the short tracks and returns to Virginia when the Cup Series takes place in Martinsville on Sunday. William Byron, who has already won twice this season, is the defending champion from the Martinsville spring race.