Buffalo Bills safety Damar Hamlin appeared at Super Bowl LVII on Sunday night and helped honor the medical professionals at the University of Cincinnati Medical Center who saved his life.
Hamlin was celebrated in Arizona on NFL Honors and Super Bowl weekend as he continues to make progress in his recovery. He went into cardiac arrest on January 2 during a game against the Cincinnati Bengals. He needed to get his heartbeat back on the field and was rushed to the hospital.
CLICK HERE FOR MORE SPORTS COVERAGE ON FOXNEWS.COM
With his appearance pleasing to most NFL fans, former star running back Adrian Peterson took issue with the 24-year-old's jacket.
Hamlin wore a letterman-style jacket with an apparent image of Jesus Christ on the left chest and a message on the right side that read: «Without end or beginning, there is no day or night.» On the back of the jacket, it read «Eternal» with Jesus on the cross.
Takashi Murakami was the designer of the outfit and the cost of the jacket is $3,150, according to TMZ Sports.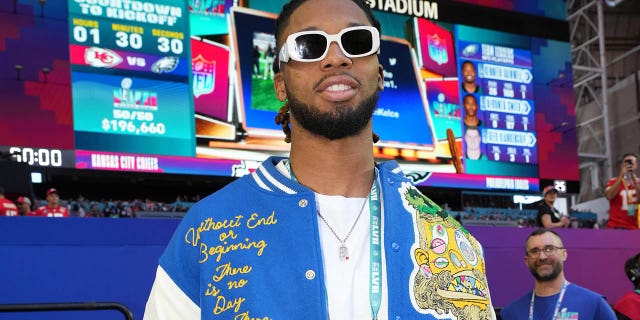 PATRICK MAHOMES IS FIRMLY IN A LEAGUE OF HIS OWN AFTER LATEST SUPER BOWL WIN
But for Peterson, a devout Christian, it was overkill.
«You should be thanking God, son! This is blasphemy! We all come up short, but come on, man! That seems disrespectful to me!» the former Minnesota Vikings star wrote on Instagram.
He added: «But this was different! I know young people don't think sometimes, older ones too! But with everything surrounding his situation! This is not one of those times when a young man doesn't think!» .
It didn't look like Hamlin had a problem with the jacket.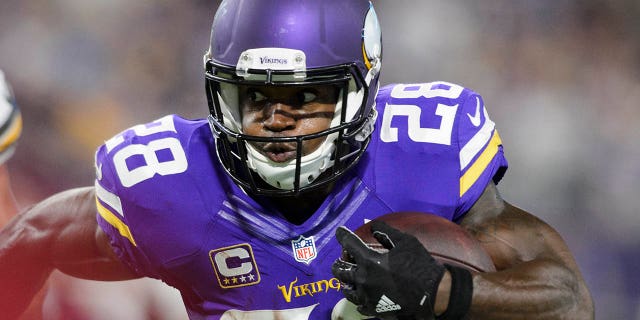 CLICK HERE TO GET THE FOX NEWS APP
He posed for a photo with LeBron James and was seen greeting Philadelphia Eagles running back Miles Sanders before the game.