March is synonymous with college basketball, and USC Upstate's thrilling victory got the month off to an incredible start.
Jordan Gainey hit a 3-pointer in the final seconds of the game to defeat Gardner-Webb in the quarterfinals of the Big South Conference tournament on Friday.
Prior to Gainey's game-winning shot, a series of notable events brought USC Upstate within two points.
CLICK HERE FOR MORE SPORTS COVERAGE ON FOXNEWS.COM
After a pair of free throws by Gardner-Webb's Anthony Selden, Gardner-Webb led 76-71 late in the game. With only nine seconds remaining, Gainey made a 3-pointer to make it 76-74.
DETROIT MERCY'S ANTOINE DAVIS COMES FOUR POINTS AWAY FROM BREAKING PETE MARAVICH'S SCORING RECORD
Leading by two, Gardner-Webb had possession and needed to get the ball out, foul and make free throws to seal the game.
But a late entry pass created a fight. Gainey grabbed the ball and quickly dribbled past the defenders.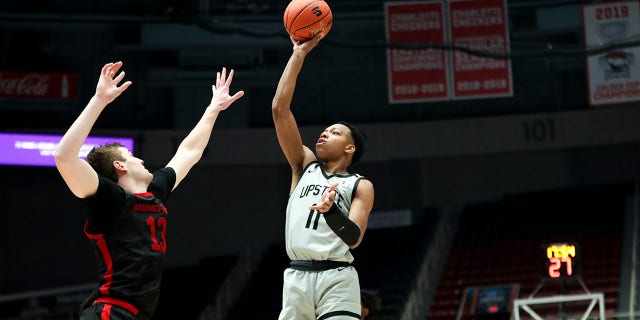 As the final seconds of the clock ticked down, an off-balance Gainey attempted a shot.
With 0.1 left on the clock, Gainey's 3-pointer came in to give USC Upstate the 77-76 victory.
Gainey scored 25 points on 9-of-16 shooting, including 3-of-8 from distance for the Spartans (16-14). He also grabbed two rebounds and recorded a steal during the game.
Bring Broadnax and Khydarius Smith each scored 12 points.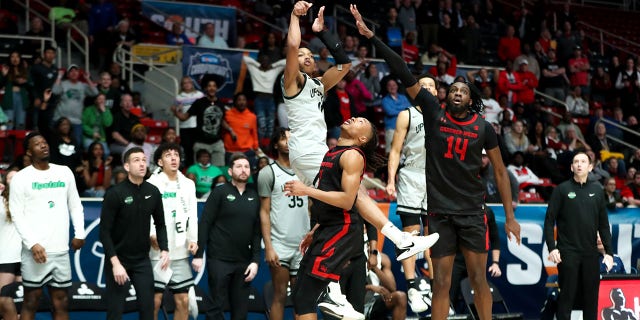 The Runnin' Bulldogs (15-16) were led by Kareem Reid, who had 19 points and added seven rebounds. Anthony Selden added 16 points and seven rebounds for Gardner-Webb. DQ Nicolás also had 15 points.
CLICK HERE TO GET THE FOX NEWS APP
USC Upstate (16-14) faces UNC Asheville in the Big South semifinals.
Associated Press contributed to this report.