It follows an official request from the Polish government on Tuesday asking Germany to approve plans to send Leopard 2 tanks to the battlefield, the culmination of a week-long pressure campaign on Europe's leading power to do more to support the cause. of Ukraine at a key moment in the 11-Month War.
Germany, which makes the heavy tanks, must grant permission for the weapons to be shipped to a non-NATO country. Ukrainian military leaders have said they need hundreds of tanks to break through Russian defenses. There are an estimated 2,000 Leopard 2 tanks in Europe, including several hundred in Germany alone, according to the International Institute for Strategic Studies think tank.
President Volodymyr Zelenskyy led Ukrainian officials to celebrate the announcement and thanking Scholz for what he called an «important and timely» move.
'Freedom for the Leopards'
Germany has provided billions in humanitarian and military aid since the start of the war, but Scholz has generally held to a cautious approach rooted in his country's history and political culture. Many Germans remain concerned by the sight of their tanks rolling towards the Russian border once again and fear being seen as responsible for the escalation on European soil.
This reluctance drew criticism from Ukraine, Poland and the Baltic nations, which have long called for a stronger response to combat Russia's expansionist goals.
Thousands of protesters have gathered outside Parliament in Berlin, while the Ukrainian government has promoted a social media campaign calling on Germany to «release the leopards».
After Wednesday's announcement, Ukraine's Defense Minister Oleksii Reznikov said on Twitter that «there was more to come.»
Zelenskyy has been calling for increased firepower since before the invasion of Russia last February.
He and his advisers have made it clear that the hardware previously offered by the country's allies would not be enough to retake its territory, especially as both sides prepare for what many expect to be a crucial period of intense fighting once the winter ends. .
"In order for us to defeat the Russian Federation, we absolutely need tanks," Oleksiy Danilov, secretary of Ukraine's National Security and Defense Council, said in an interview last week.
Germany has over 300 active Leopard tanks and more in storage. Poland has committed to sending a company of tanks, usually 14, but has said the deployment would make more sense as part of an international brigade. Several countries use Leopard tanks, including Canada, the Netherlands, and Sweden.
The UK has already committed to sending 14 Challenger 2 tanks to the Ukrainian front line.
The United States had been frustrated with Germany's efforts to pressure Washington on the issue, three US officials told NBC News last week, after Berlin signaled it would be more willing to provide tanks if Washington sent its own M1 Abrams tanks. to Ukraine.
The deployment of the tanks will be a gradual process.
Ukrainian troops must be properly trained, while tanks require parts for upkeep and are typically deployed alongside infantry units with their own acquisition and training needs.
Ukraine believes that the tanks could help it not only to defend its territory, but also to recapture the lands occupied by Russia since the beginning of this war.
But despite the importance of Germany's announcement, the effect on the direction of the war may not only be delayed but limited, one analyst said.
"The question is whether 100 tanks of different varieties will be enough to drive the Russian forces out of the Ukraine. My bet is that it won't,» said Matthew Ford, an associate professor at the Swedish Defense University in Stockholm.
«With 300, there might be a better chance to do it, but you have to remember that Russia is doing the same thing,» he said, referring to rearmament and redeployment.
Ford added that it was far from certain that the foreign tanks would be combat-ready ahead of an anticipated Russian spring offensive. The deployment of Leopard tanks was the most significant, he said, because of their conventional diesel engine, as opposed to Abrams tanks, which run on jet fuel.
"I still don't think this war is over this year and it doesn't matter that tanks are being provided. It seems to me that the Russians are busy creating their own combat power, so we have another race of who can build weapons faster,» he said.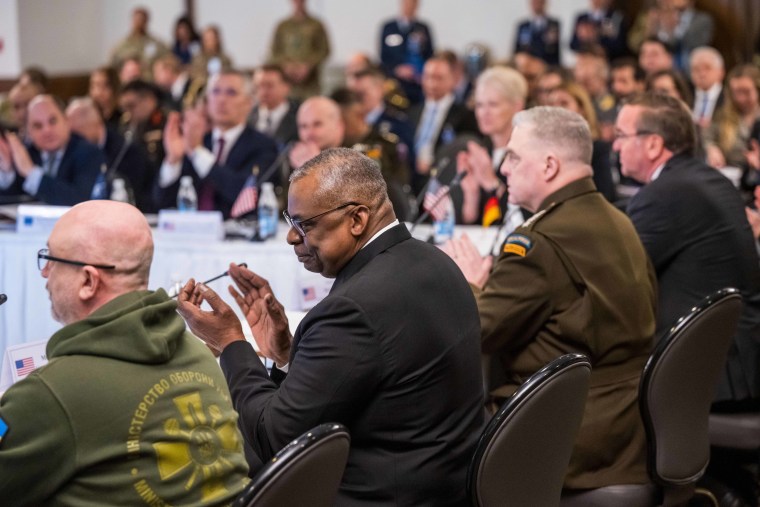 Russia has consistently warned that increasing Western military supplies could cause a dangerous escalation among the nuclear-armed powers.
Kremlin spokesman Dmitry Peskov described the German and US tank plans as «a rather disastrous plan.»
"The main thing is that this is a completely obvious overestimation of the potential that would be added to the armed forces of Ukraine. It's yet another fallacy, quite deep," he told reporters on Wednesday.
Peskov predicted that "these tanks will burn out like all the others. … Except they cost a lot, and this will fall on the shoulders of European taxpayers." he added he.
Earlier this month, Russian President Vladimir Putin replaced the commander leading his forces in Ukraine after months of battlefield setbacks and internal criticism.
But Russia scored its first victory in months on the eastern front of the war by seizing the mining town of Soledar as part of its bloody campaign to seize the nearby city of Bakhmut, though it was unclear how much of the operation took place. . by Russian military or mercenaries from the Wagner Group.
Ukraine finally confirmed on Wednesday that its forces had withdrawn from Soledar, nearly two weeks after Moscow claimed victory there.