Miami Heat head coach Erik Spoelstra was asked about the bizarre incident between UFC star Conor McGregor and the team's mascot on Friday night.
McGregor and Burnie were at half court during Game 4 of the NBA Finals between the Heat and the Denver Nuggets. McGregor punched Burnie twice, and the person inside the costume briefly sought medical attention. The team said the employee received pain medication and was resting at his home.
CLICK HERE FOR MORE SPORTS COVERAGE ON FOXNEWS.COM
Spoelstra appeared to praise the person inside the suit for taking the hit.
«That's the toughness of the Miami Heat we're talking about,» Spoelstra said Sunday. «He should have been allowed to, you know, first hit. We won't reveal who he is, but he's tough. He can take a hit and come back out.»
CONOR MCGREGOR GETS BOOED DURING HALFTIME OF NBA FINALS IN MIAMI, KNOCKS OUT HEAT MASCOT
McGregor was in the arena as a promotional gimmick for a pain-relieving spray. The mascot wore oversized boxing gloves and a robe similar to what a fighter would wear to a boxing match. McGregor landed a left hook, then hit the mascot again as he fell to the ground.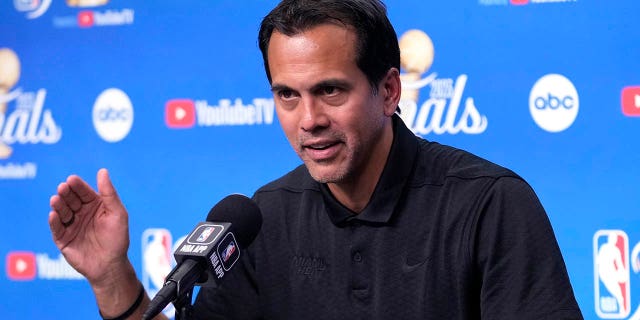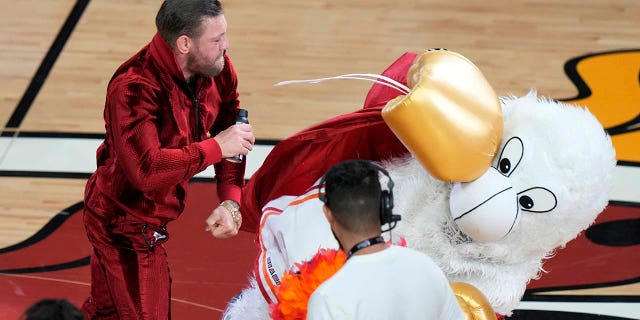 McGregor tried to «spray» the pet with the pain-relieving product before he was removed from the flat.
CLICK HERE TO GET THE FOX NEWS APP
Denver won Game 4 against Miami and will look to clinch its first NBA championship on Monday night.
Associated Press contributed to this report.