Jamaal Williams' hips don't lie, and neither did the NFL when it said it was cracking down on touchdown celebrations.
After Williams' first touchdown in the Detroit Lions' 20-16 win over the Green Bay Packers, the running back celebrated with a hip shake.
However, the swaying of her hips cost her. The NFL fined him $18,566.
CLICK HERE FOR MORE SPORTS COVERAGE ON FOXNEWS.COM
Williams was not penalized during the match for the celebration.
LIONS PLAYER RIPS FEDEX FOR LOSING WIFE'S FROZEN BREAST MILK PACKAGE: 'WHAT A JOKE'
Williams scored twice on the night, and the Lions' win knocked the Packers out of playoff contention.
The game would have been a true do or die had the Seattle Seahawks lost their game against the Los Angeles Rams earlier in the day. The Seahawks' overtime victory eliminated the Lions.
Yet despite that, the Lions did Seattle a huge favor. Their win over Green Bay put the Seahawks in the playoffs.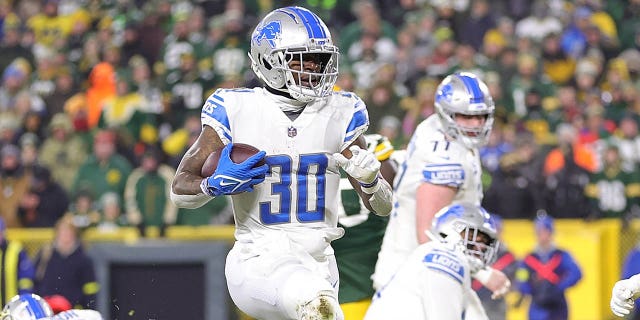 CLICK HERE TO GET THE FOX NEWS APP
The fine was Williams' second of the season. In Week 3, he too was fined $13,261 for a celebration.
Detroit finished 9-8 on the season after starting 1-6.