Patrick Mahomes and Jalen Hurts will make history on Sunday when they become the first two black quarterbacks to start a single Super Bowl when the Kansas City Chiefs take on the Philadelphia Eagles.
Warren Moon, a member of the Pro Football Hall of Fame, had to make sure it hadn't been done before.
Moon accomplished a lot in his stellar NFL career. He spent five seasons with the Edmonton Eskimos of the Canadian Football League and won five Gray Cups. He joined the Houston Oilers in 1984 and played there until 1993. He then played for the Minnesota Vikings from 1994 to 1996. He would spend two years with the Seattle Seahawks and end his career with two more seasons with the Chiefs.
CLICK HERE FOR MORE SPORTS COVERAGE ON FOXNEWS.COM
After nine Pro Bowls and an NFL Offensive Player of the Year award, his legacy was cemented in 2006 when he became the first black quarterback to be inducted into the Pro Football Hall of Fame.
Moon told Fox News Digital in a recent interview that he had to check the record books again to make sure the anticipated matchup hadn't happened sooner.
«I was watching the AFC Championship, and when the Chiefs won, that was the first thing that crossed my mind. I thought, 'Wait a minute, has this happened before? There will be two black quarterbacks in the Super Bowl?' And then I started looking back at Super Bowls because I knew there were a number of black quarterbacks who had played it, but never against each other. So, I was really proud for a moment,» he said.
The former superstar said he was watching the game with fellow Hall of Famer Jerome Bettis and five-time Pro Bowler Mark Clayton as the Chiefs consolidated victory over the Cincinnati Bengals.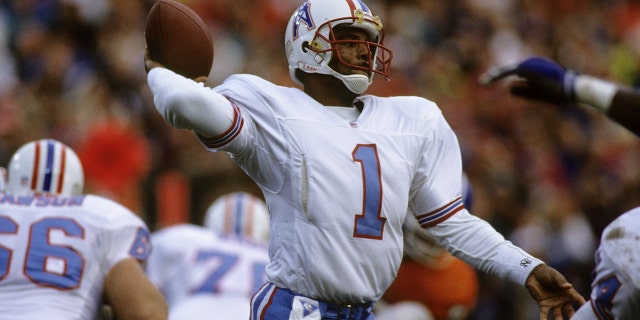 CHIEFS' PATRICK MAHOMES WILL BE ON 'JOE MONTANA STATUS' WITH ANOTHER TITLE, SAYS FORMER NFL STAR VICTOR CRUZ
«We all started high fives and we were so happy about the fact that this is finally happening because it's history,» Moon said. «And for me, I just had a sense of pride from everything I went through trying to play the quarterback position, people telling me I couldn't, going to another country, all the different things I went through on my journey, and then the guys before me like Shack Harris and Marlin Briscoe and Joe Gilliam, and knowing what those guys went through, it was a very proud moment for me that all of our advances have not been in vain.»
Moon didn't think the story would add additional pressure to either quarterback.
Mahomes is set to appear in his third Super Bowl and is going after his second ring. Hurts goes after his first ring in his first Super Bowl. The rest is just outside talk.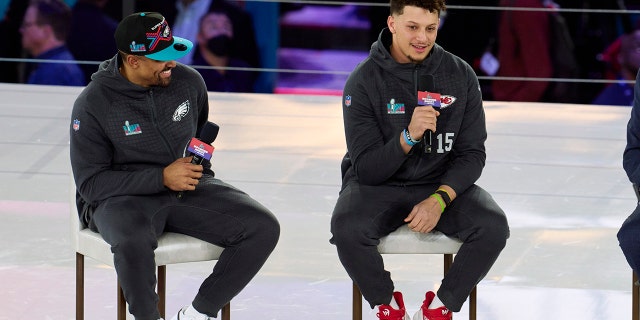 «I think if anything, it allows them to relax a little bit,» Moon explained to Fox News Digital. «They don't feel like they're the only one in the game, that they're the only black quarterback in the game. One of those guys is going to win. They both have great respect for each other. I think it's more of a history kind of thing for the fans and the media. It's a great story to talk about this week, just like the Kelce brothers and Andy Reid are going to play their old team. Lots of great stories for this game, but this is pretty historic because it's never happened before.» .
EAGLES GREAT BRIAN WESTBROOK 'VERY CONFIDENT' TEAM CAN WIN SUPER BOWL, SHARES TIPS FOR NEWCOMERS
With the NFL world putting more scrutiny on giving more roles to minorities in the coaching and front office ranks, Moon said he hopes the timing of the Super Bowl will create a ripple effect throughout the league in all its aspects.
«I hope so. We hired another African-American coach this year, and we had an African-American general manager going to the Tennessee Titans,» he said. «Some progress is being made. It's slow, but it's progress. We just have to keep going.»
«I think the more African Americans we can get, whether it's front office people or coaches or whatever, in front of the owners and give them a chance to see who these guys are and what their personality is about, I think that has a a lot to do with it because look at the signing of the Houston Texans (DeMeco Ryans). He played for the Houston Texans. They know him, they're comfortable with him, they know his character and they know his personality. That made it easier for them to pick him. as a head coach because of that familiarity. That's what it's going to take for other black coaches to get those opportunities because you have to remember that they're being hired by white guys, and you're usually going to hire whoever you're comfortable with. Unless comfortable with you, you probably won't get the job over someone else.»
CLICK HERE TO GET THE FOX NEWS APP
The Chiefs and Eagles will meet in Super Bowl LVII on Sunday at 6:30 pm ET. The game can be seen on FOX.