new york rangers Defenseman K'Andre Miller was ejected from Sunday night's game against the Los Angeles Kings after he spat at veteran NHL defenseman Drew Doughty late in the first period.
Miller, 23, was handed a match penalty and automatically sent off from the game after he was caught on video spitting at Doughty following a minor scrum that erupted behind the net after the whistle.
Doughty, who is playing his 15th season in the NHL, he said after the game that he was shocked and did not remember seeing anything like this before.
NHL REFEREE REMOVED BRAD MARCHAND FROM BRUINS WITH A SURPRISE CHECK IN A BIZARRE MOMENT
«I was surprised, obviously,» he said. «I don't even know if I told him anything afterwards. You don't want to see things like that in this game. I don't know if I've ever seen that. I'm sure it has happened.» not that I have seen. It's unfortunate.»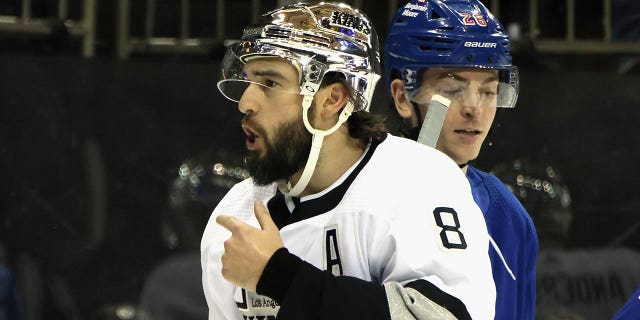 «Whether he intended to do it or not I have no idea. It's pretty big on my face so I was pretty (upset).»
CLICK HERE FOR MORE SPORTS COVERAGE ON FOXNEWS.COM
According to multiple reports, Miller contacted Doughty after the game, explaining that it was accidental.
«The kid feels bad about it,» Rangers manager Gerard Gallant added after the game. He said it was an accident.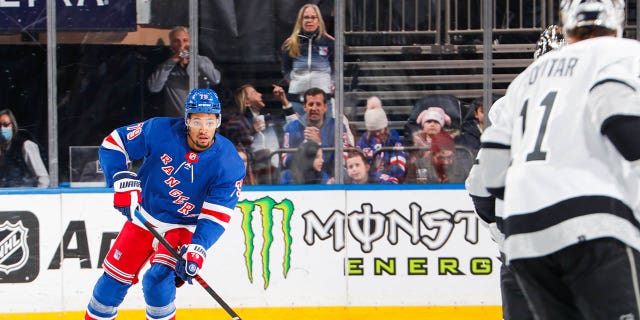 CLICK HERE TO GET THE FOX NEWS APP
According to the New York Post, Miller could face an additional suspension from the league as the commissioner reviews all game penalties. Garnet Hathaway, who was recently traded to the boston Bruins, he was suspended three games in 2019 for intentionally spitting at Erik Gudbranson during a fight.
Despite the incident, the Rangers avoided a five-game skid with a 5-2 win over the Kings.
Associated Press contributed to this report.