Arsenal goalkeeper Aaron Ramsdale got a clean sheet against Tottenham Hotspur on Sunday with the help of goals from Hugo Lloris and Martin Ødegaard.
Ramsdale had seven saves in the win, but was involved in a bizarre moment late in the game.
CLICK HERE FOR MORE SPORTS COVERAGE ON FOXNEWS.COM
The 24-year-old was grappling with Richarlison as he left the field and as he reached the touchline he was kicked in the back by a fan. The person had gone down a few rows and was standing on a railing when he kicked Ramsdale with his right foot.
It did not appear that Ramsdale was hurt by the incident. He described it as a «little punch in the back.»
«It's a shame because it's just a football game at the end of the day,» he said. «Both sets of players tried to push me away. Fortunately, nothing happened too drastically. It leaves a bitter taste, but I'm sure we'll enjoy it when we get back in the locker room.»
Tottenham's Eric Dier said the incident should never have happened.
GOODBYE BITTERSWEET: HIGH-PROFILE WITHDRAWALS FROM INTERNATIONAL SOCCER SINCE WORLD CUP IN QATAR
«It is unacceptable and it should not have happened,» Dier said.
Ramsalde said he might have riled Tottenham fans by going to the South Stand, where the home fans are seated, and kissing the badge on his Arsenal kit.
The Association of Professional Soccer Players issued a statement on the matter.
«Violence towards players is completely unacceptable,» the organization said, via The Athletic. «These types of incidents are happening far too often.
«Gamers have the right to be safe in their workplace. When a player is attacked, we expect that the laws and regulations in place to protect players are properly enforced.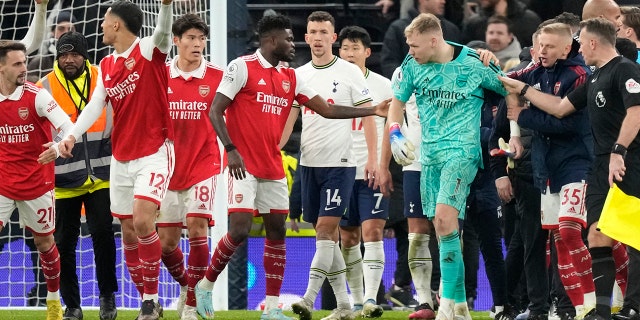 CLICK HERE TO GET THE FOX NEWS APP
«As a players' union, we treat this as a matter of priority. We will continue to work with the authorities to demand that players and staff are better protected in their workplace.»
Associated Press contributed to this report.