Last year, Sam Ryder was responsible for the loudest moment on the infamous 16th hole at the Waste Management Phoenix Open at TPC Scottsdale with his hole-in-one.
This year, that moment may be thanks to a streak.
CLICK HERE FOR MORE SPORTS COVERAGE ON FOXNEWS.COM
A man dressed only in underwear decided to run up the green and pole dance around the flagstick.
He pulled a quarterback out of a hole before falling belly-first into the water on another hole.
Written on his back was «19th HOLE» with an arrow pointing towards his bottom, which another streak did on his back. The Open Championship at St. Andrews in 1995.
The 16th hole has become famous for being the noisiest hole in all of golf – it's the only hole that is completely surrounded by seating, making it a «stadium hole».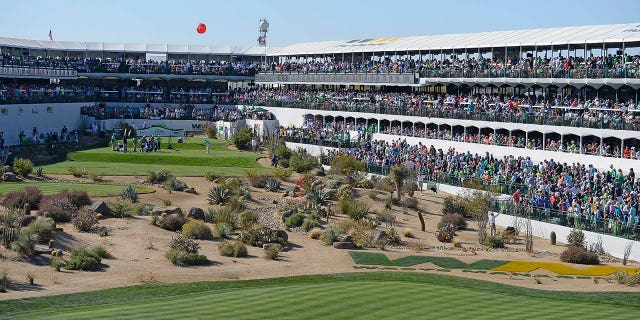 In recent years, it has become a lively party, with tournament attendees often camping out in the wee hours of the morning with plenty of alcohol to get the party started.
CLICK HERE TO GET THE FOX NEWS APP
Clearly this guy was probably one of the first in line.
The tournament concludes on Sunday, with defending champion Scottie Scheffler leading the pack at 10 under par through his two rounds.