The Colorado State Student Section was heard chanting «Russia!» toward Utah State's Max Shulga, who is from Ukraine, during a basketball game Saturday night.
Shulga was at the free throw line with 40.9 seconds remaining in the game when video caught the student section doing the chant, which caught the player's attention as he looked out over the crowd.
The state of Colorado issued an apology on Sunday.
CLICK HERE FOR MORE SPORTS COVERAGE ON FOXNEWS.COM
«After tonight's basketball game, we noticed a small group of people in our student section chanting 'Russia' to a student athlete from Utah State, who is from the Ukraine.» the statement is read. «On behalf of the State of Colorado, we apologize to the student-athlete and the State of Utah. This is a violation of our firm belief in the Mountain West Spotsmanship Policy and the University Community Principles. All participants , students and fans should feel welcome at our venues, and for something like this to have occurred is unacceptable in the state of Colorado.»
DUKE WOMEN'S BASKETBALL COACH CLAIMS MEN'S BALL USED AGAINST FLORIDA STATE: 'EMBARRASSING FOR OUR SPORT'
Shulga is originally from Kyiv, the capital of Ukraine, and his family still resides there. Kyiv has been one of the main centers of the invasion that Russia began a year ago.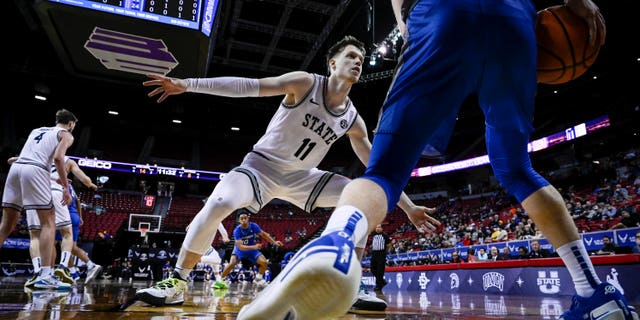 «I have a lot of respect for @USUBasketball and Max Shulga,» Colorado State head coach Niko Medved said on Twitter. «We have amazing fans and students, but this is not acceptable! My sincerest apologies.
IOWA CANCELS 200 TICKETS PURCHASED BY ILLINOIS STUDENT SECTION FOR 'FALSE' POSSESSING AS BOYS AND GIRLS CLUB
Shulga is a junior in the Aggies program and the 6-foot-4 guard has started all 24 games Utah State has played this season.
Shulga has 11.3 points, 4.4 rebounds and 4.1 assists in 29.5 minutes per game.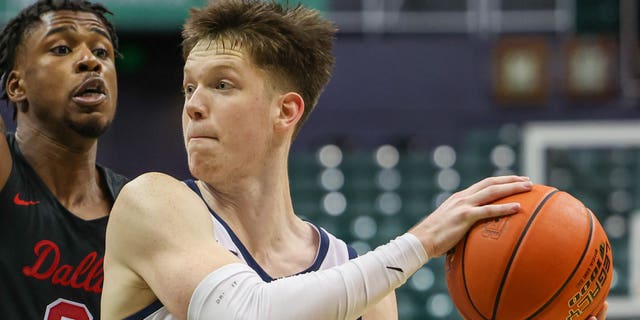 CLICK HERE TO GET THE FOX NEWS APP
In the win over Colorado State, Shulga scored nine points, including going 3-for-4 from the free throw line late in the game where the incident occurred, with three rebounds and six assists.