USC quarterback Caleb Williams was cooking early for the Trojans in their Cotton Bowl Classic matchup against Tulane on Monday.
In the second quarter, the Heisman Trophy winner made an impressive play to set up USC's next touchdown run. He faced a four-man rush from the Tulane defenders and managed to get away from the tacklers and roll to his left near the sideline.
CLICK HERE FOR MORE SPORTS COVERAGE ON FOXNEWS.COM
Williams then set up and somehow managed to throw a pass downfield to wide receiver Brenden Rice, who made a catch with two defenders positioned on him. The 30-yard throw and reception set the Trojans up at the goal line and a few plays later, Williams threw a touchdown pass to Terrell Bynum.
The score helped USC go up 14-0 in the second quarter, but Tulane would come back with two touchdown drives of their own, including an 87-yard pass from quarterback Michael Pratt to Jha'Quan Jackson.
USC led 28-14 at halftime. Williams completed 20 of 29 passes for 253 yards, three touchdown passes and one interception.
ALABAMA STAR BRYCE YOUNG, WILL ANDERSON JR. DECLARE FOR NFL DRAFT AFTER SUGAR BOWL WIN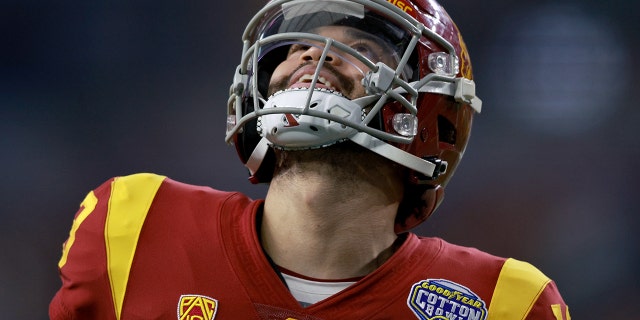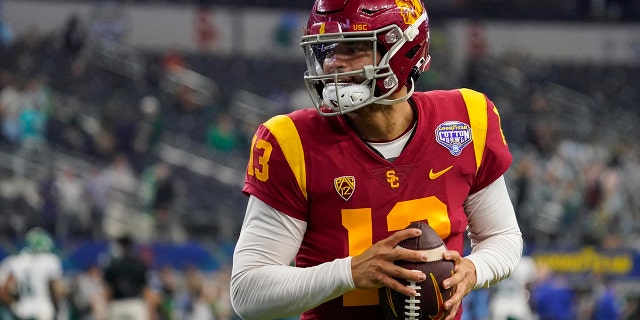 Williams looks to end the 2022-23 season with a win and give the Trojans their first 12-win season since 2008. They have their first 10-win season since 2017 and nearly made the college football playoff for the first time, but lost . to Utah in the Pac-12 championship game.
CLICK HERE TO GET THE FOX NEWS APP
Williams, who came to USC with Oklahoma's Lincoln Riley, had 4,075 passing yards and 37 touchdown passes, helping him win his first Heisman Trophy award.