Veteran Brazilian surfer Marcio Freire died on Thursday while surfing off the coast of Portugal in an area known as Nazaré, which is home to some of the biggest and most dangerous waves in the world, according to reports.
The Portuguese national maritime authority said: «A 47-year-old man of Brazilian nationality died this afternoon after suffering a fall while towed surfing off Praia do Norte.»
The statement said authorities were alerted and the surfer was rescued on a jet ski by lifeguards before being taken to the beach.
PRO SURFER KALANI DAVID DIES AT 24 YEARS OLD WHILE SURFING IN COSTA RICA
«The lifeguards verified that the victim was in cardiorespiratory arrest, immediately starting resuscitation maneuvers,» the statement describes. «After several attempts, it was not possible to reverse the situation.»
The 47-year-old man was pronounced dead on the beach by officials from Portugal's National Institute of Medical Emergencies.
Fox News could not immediately reach maritime authorities for comment.
Freire was one of three Brazilian surfers featured in the documentary «Mad Dog» that features their attempts to conquer the infamous «Jaws» surf break on the Hawaiian island of Maui.
Located approximately 75 miles north of Lisbon, the surf spot of Nazaré became world famous for its gigantic waves after American surfer Garrett McNamara set a world record after riding a 78-foot wave in 2011.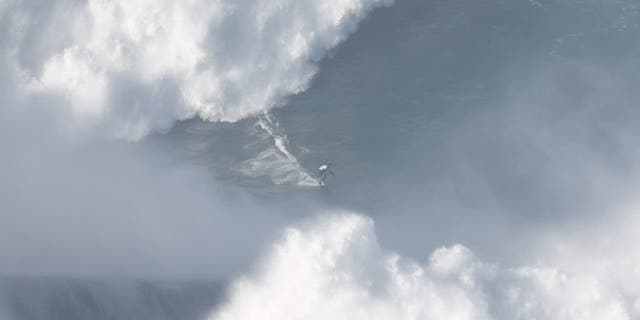 SURF WONDER: WOMAN DESPERATE IN LAKE IN HIGH HEELS, SABER CAFÉ, READ WHILE 'ON BOARD'
His record was then broken in 2017 by Brazilian surfer Rodrigo Koxa and then again in 2020 by German Sebastian Steudtner, who surfed an 86-foot wave in Nazaré.
An avalanche of tributes and grief hit social media after the legendary surfer's death.
«Today we lost one of our own,» fellow big-wave surfer Nic von Rupp said on Instagram, noting that he spent the day watching Freire surf.
"She surfed all day with a big smile on her face. So I will keep it in my memory. Legend," she added.
CLICK HERE TO GET THE FOX NEWS APP
The Portuguese Surfing Federation took to Facebook to say that it «regrets the tragic death of Brazilian surfer Márcio Freire in Nazaré.»
«Our thoughts are with the bereaved family and the big wave surfing community,» the federation said.